Parents ask, Nosiboo answers!
Taking care of a baby is a challenge. You want to make sure that you're doing the right thing, although nobody has ever prepared you for it. Even the simplest activities with your child require you to think twice (or ten times) before you start.
No worries, it's absolutely normal!
A lot of questions can arise regarding nasal hygiene in babies as well. We decided to answer the most important of them to clear your doubts (and bust some myths as well).
When to use a nasal aspirator? How often should I use a nasal aspirator?
Use a manual or electric nasal aspirator when your child struggles with a runny or stuffy nose. Those situations can be:
during illnesses of the upper airways, e.g. common cold;
after crying, when tears mix with mucus;
during cold weather, when cold, dry air irritates the nose;
after moving from a cold place to a warm one due to the temperature and humidity change.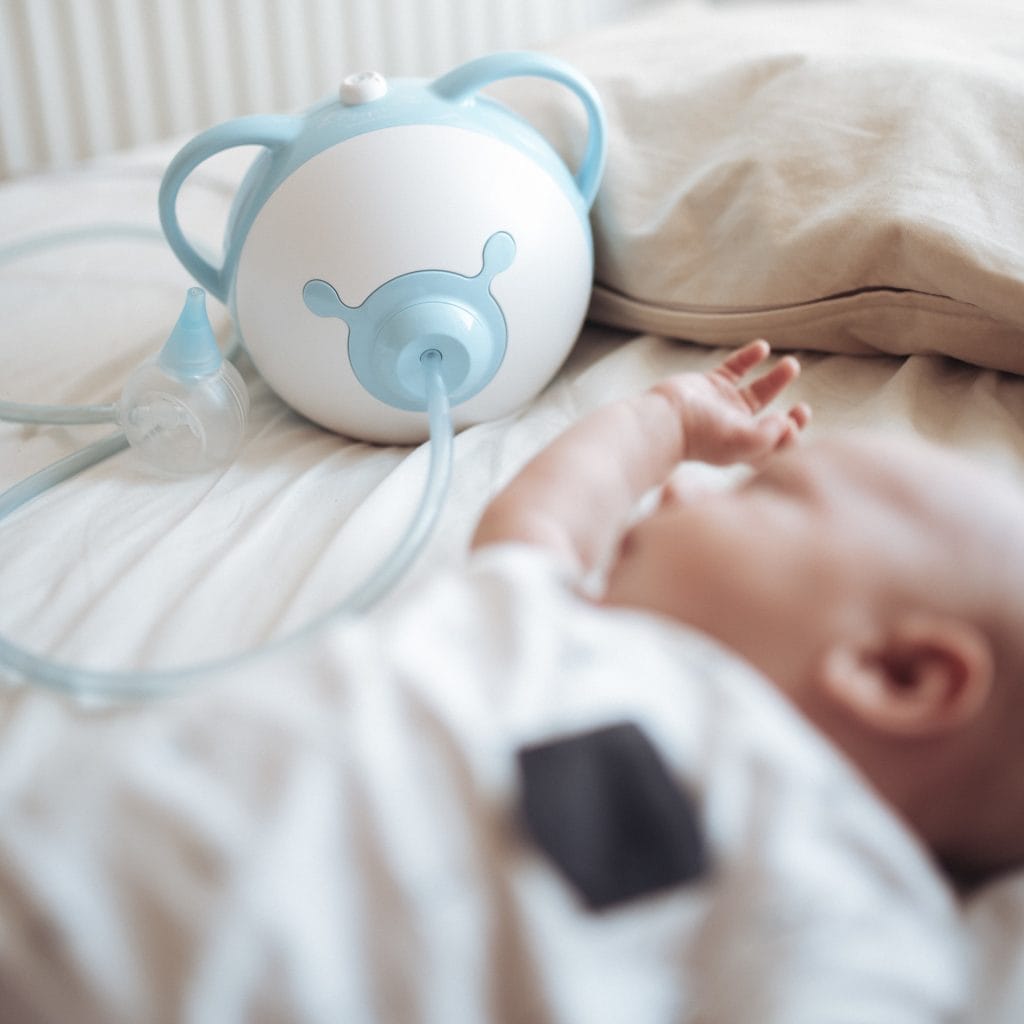 In such situations cleaning the nasal passages from stagnating secretion facilitates breathing, especially when the baby has a stuffy nose at night. Remember to use a saline solution before nasal aspiration to thin the mucus. Note: it's not recommended to use this combination straight after the feeding as it may cause vomiting.
You should use the nasal aspirator as often as it's needed to make sure your child can eat and breathe freely. It should be enough to perform it a couple of times a day. There is no age limit up to which the nasal aspirator can be used. Newborns, infants, and toddlers can benefit from it whenever they have nasal congestion. Keep the nasal aspirator handy until your child learns how to blow their nose on their own.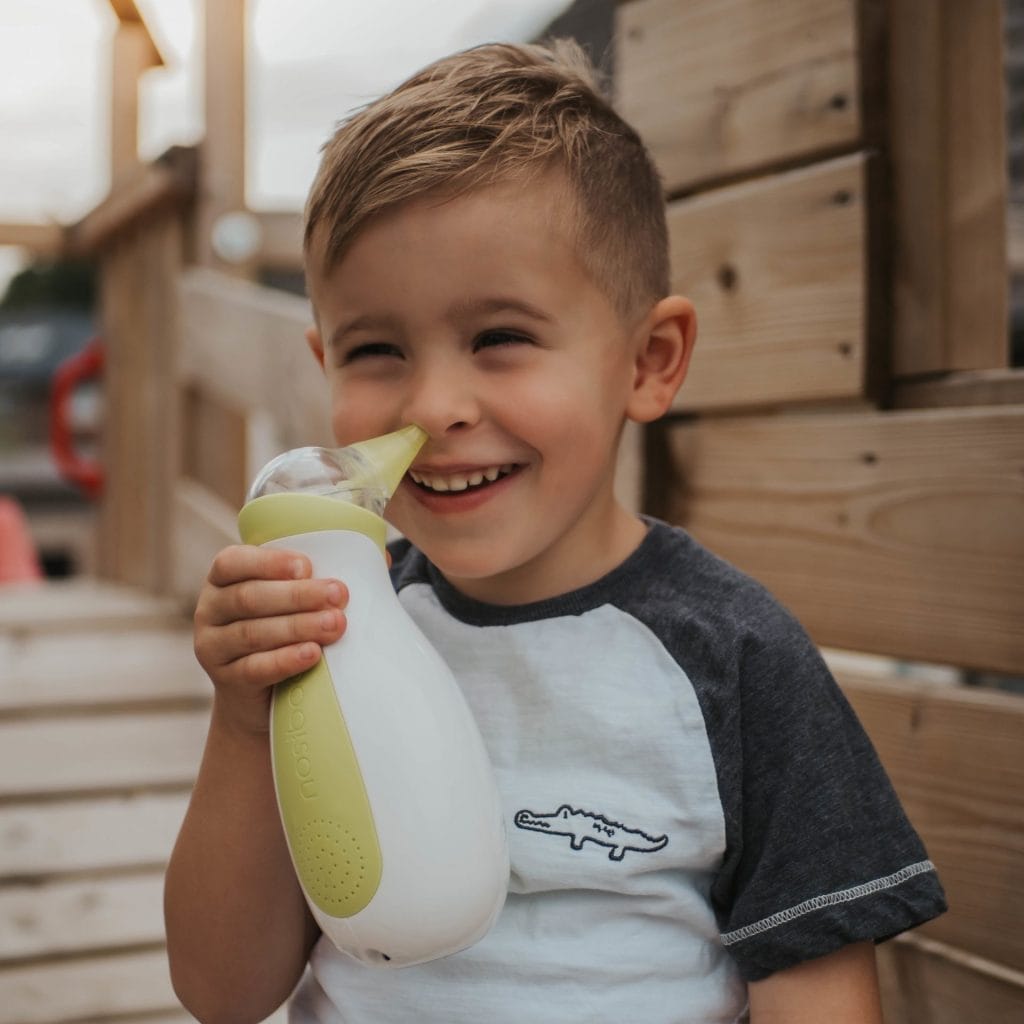 Is a nasal aspirator safe for newborns, infants?
Yes! Nasal aspiration is safe for the child as long as you choose a certified medical device and stick to its user manual.
Make sure that the nose tip is made of BPA-free, soft materials, that won't irritate the baby's nose.
Pay attention to the level of suction power that the device comes with. Sticking to the power of aspiration recommended by the international medical community guarantees safety for the child.
Choose a nasal aspirator that is easy to clean. By washing and drying its parts thoroughly you get rid of all the germs.
You don't have to look far – the nasal aspirators from the Nosiboo line meet all these conditions.
How to clean a nasal aspirator?
The cleaning process is very important and should never be bypassed! It's a key to keep the process of nasal aspiration hygienic and to utilize the device for a long time. Always read and follow the instructions of the user manual to get insights on how to clean your nasal aspirator.
In the case of Nosiboo devices the cleaning process is very simple – just disassemble the parts of the Colibri or Penguin head and clean them with liquid soap and lukewarm water. Leave them to dry.
See the videos here:
How to clean your Nosiboo Pro?
How to clean your Nosiboo Eco?
Stuffy or runny nose and medicine – yes or no?
There are a lot of risk factors that can cause an adverse reaction to medicine in children. Due to different anatomy and body proportions in childhood (body fat, protein, water), the doses of medications should be different than for adults. That creates the possibility of errors. The best would be to avoid medications or apply them very carefully if needed, especially for neonates. Always follow your paediatrist's recommendations!
What about antibiotics? When we talk about a runny nose or stuffy nose in a baby caused by a common cold, antibiotics should be avoided. They kill bacteria, but not viruses that cause most colds, flu, coughing, sore throat, and runny nose. In that case, they won't cure a viral infection or help the child feel better.
At Nosiboo we believe that prevention is better than cure! Cleaning the baby's nose with the help of a nasal aspirator might reduce the need of taking medications by preventing serious consequences of a long-lasting runny nose.
Baby and runny/stuffy nose – when to see the doctor?
Consider calling the doctor when your child:
has a high or long-lasting (›2 days) fever,
suffers from severe coughing,
changed their daily activity: sleeps considerably less or more than usual,
has trouble breathing,
experiences ear pain,
refuses to eat,
vomits or has diarrhea,
blows out a bloody nasal discharge.
If your baby is younger than 3 months of age, call the doctor already at an early stage of the illness!
Can adults use a baby nasal aspirator?
Yes! There is no age limit to use a nasal aspirator. It was designed for children, but there is no reason why it could not help their parents as well.
Test yourself! Do you know all the myths about the runny nose?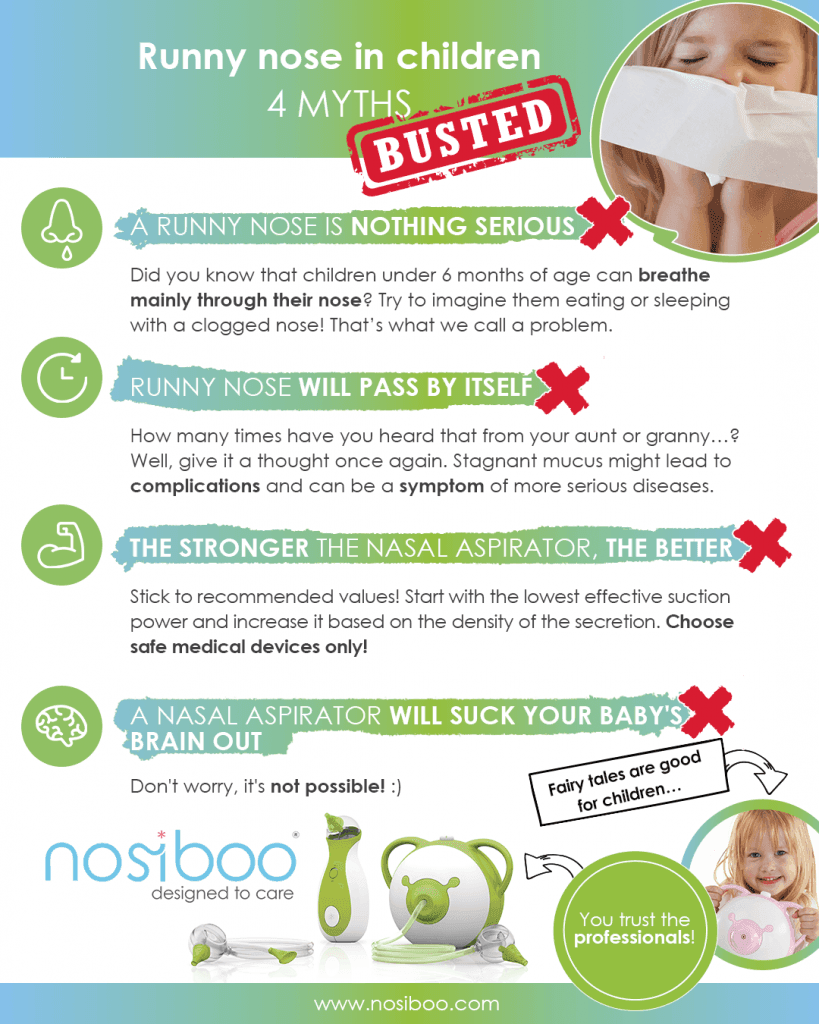 Trust the professionals! Get to know the family of Nosiboo nasal aspirators, that are safe and effective.
These powerful, certified medical devices are designed to be child-friendly, easy to use, and clean. Which one will become your sidekick when a runny or stuffy nose attacks? Choose and click below to learn more about it!

---
Main picture: @madtayobray
Bibliography:
Centers for Disease Control and Prevention. (2019). Runny Nose from a Cold & Antibiotics: Q & A Guide for Parents U.S. Department of Health and Human Services, https://www.cdc.gov/antibiotic-use/colds.html
Center for Disease Control and Prevention (2020). Adverse Drug Events in Children. https://www.cdc.gov/medicationsafety/parents_childrenadversedrugevents.html
Chirico, G., Quartarone G., and Mallefet P. (2014). Nasal congestion in infants and children: a literature review on efficacy and safety of non-pharmacological treatments. Minerva pediatrica,66.6 (2014): 549-557 https://www.ncbi.nlm.nih.gov/pubmed/25336097
Hardjojo A., Shek L. P., van Bever H. P…(2012). Rhinitis in children less than 6 years of age: current knowledge and challenges. Asia Pac Allergy,Jan;2(1):90. https://www.ncbi.nlm.nih.gov/pmc/articles/PMC3206246/
Mayo Clinic. (2019). Common cold in babies. https://www.mayoclinic.org/diseases-conditions/common-cold-in-babies/symptoms-causes/syc-20351651
World Health Organization (2007). Promoting safety of medicines for children (NLM classification: WS 366). https://apps.who.int/iris/handle/10665/43697